Meet Our Coaches
Katie Tallant {Manager}
Katie is a CrossFit L1 Trainer and CrossFit Weightlifting Trainer. She is a wife and mother to daughter Vayda. She graduated from Tennessee Tech University in 2013. While at Tech, she was a member of the Track and Field team, where she competed as a pole vaulter and 400 M runner. Upon graduation, she continued her education as a graduate Assistant in tech's Athletic Performance Center where she obtained her masters in Exercise Science. She is passionate about helping others obtain a healthy lifestyle, and her competitive drive led her to the CrossFit community. She enjoys competing with her husband and spending time with friends and family.
 Matt Whitehead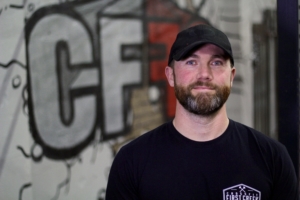 Matt is a L1 CrossFit Trainer and CrossFit Weightlifting Trainer .  He is a husband and father of two. A Network Engineer by day and a homeschooling dad by night. He was born and raised in Virginia but has lived in the Knoxville area for the past 18 years. He found CrossFit in 2012 and became a USAW Sports Performance Coach (Olympic Lifting) in 2013. When he is not working or working out, he enjoys traveling/vacationing with his family, playing or coaching several different sports and also action movies and a good whiskey.
Austin Tallant
Austin is a CrossFit L1 Trainer and was raised in Walland, TN. He graduated from Alcoa High School in 2011 and played football where he was a 4 time state champion. He then attended and graduated from Tennessee Tech in 2015. While at Tennessee Tech he played football where he still ranks 5th all time in tackles and has the most starts in school history (45). Trained under Rich Froning and Dan Bailey as a football player at Tennessee Tech. He knew then that CrossFit was something he wanted to do when being coached by 2 of the best in the world. Finished 52 in 2016 open.
Bo Ackerson
Bo is a L1 CrossFit Trainer. Bo and his wife, Leslie, have lived in Knoxville for the past 3 years. Bo went to school at Samford University on a Track and Field Scholarship where he competed as a Decathlete. He holds the Southern Conference record for indoor heptathlon. Bo became a Crossfit Level 1 Trainer after graduating, as a way to share his passion for fitness and an active lifestyle with others. His favorite part about coaching is introducing new people to Crossfit, and believes that anyone, at any age or skill level, can improve their level of fitness and accomplish a lot more physically than they think they can. He works out in the gym, so he can enjoy being active outside the gym.
Meg Yoakley
Meg is a L1 CrossFit Trainer. She's a Large Animal Vet tech born and raised in Knoxville TN. Meg played soccer throughout her whole life, playing travel through high school and club in college. After playing soccer for so long Meg was not satisfied working out alone and found CrossFit in 2014. She has been in love ever since. If you can't find Meg in the gym, she's probably loving on animals.
Jamie Marshall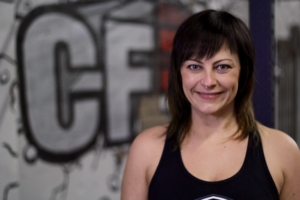 Jamie is a L1 CrossFit Trainer. She is a Knoxville native and graduated from the University of Tennessee in 2005 with a B.A. in Forensic/Cultural Anthropology. After college her love for anatomy, physiology, and people led her into the world of fitness. She started personal training in 2008; in 2012 she was introduced to CrossFit and was immediately fascinated by the sport and sense of community that was created by it. In her free time, she enjoys hiking, biking, rock climbing, kayaking, camping and live music.
Eric Arnsdorff
Eric is a Crossfit L1 Trainer and is an owner at CFFC. He been involved in CrossFit since February 2012. As an adult and father of two active girls he has coached youth athletics and served as a board member and president of a youth park. He is also an avid tennis player. Outside of the gym he is a Professional Engineer and has been with Siemens Medical Imaging for 13 years in the R&D group that develops clinical PET/CT and MR/PET systems. Being a coach, Eric hopes to help anyone he can, to find out how becoming more fit can change their life and that there's a lot more to CrossFit than just a daily workout at the gym and it can make a huge difference in all aspects of life as well.