CrossFit FirstCreek is excited to announce that we recently launched our own Barbell Club, led primarily by Coach Jay with assistance from Coach Matt. Coaches will be available Monday – Friday from 6 – 8 p.m. to lead the Barbell Club programming. Each Sunday, the programming for the week will be announced on the CrossFit FirstCreek Members Only – Facebook group. 
About the Barbell Club Coaches
Jay Coulter
Jay is an USPA National Referee, Tennessee Records Chairman, and certified coach along with being an I.S.S.A. recognized Master Trainer for having completed the organization's fitness trainer, fitness nutrition, exercise therapy, youth fitness, senior fitness, and strength & conditioning certifications.
Jay specializes in powerlifting, and will be available Monday through Friday evenings from 6 – 8 p.m. to train athletes and help provide form critiques.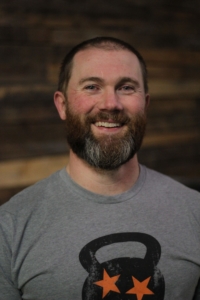 Matt Whitehead
Matt is a L1 CrossFit Trainer and CrossFit Weightlifting Trainer .  He is a husband and father of two, and stay at home dad. He was born and raised in Virginia but has lived in the Knoxville area for the past 18 years. He found CrossFit in 2012 and became a USAW Sports Performance Coach (Olympic Lifting) in 2013.