Jana Freels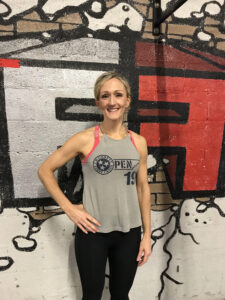 Congratulations to our November 2019 Athlete-of-the-Month, Jana Freels! We sat down with Jana and talked to her about her CrossFit experiences. 
CFFC: Tell us about yourself!
Jana: I grew up in Pall Mall, which is a small town north west of Knoxville. I graduated high school in 1998 from Alvin C York Agricultural Institute (YAI), then received my BS in Health Science from Tennessee Tech in Cookeville in 2003. In 2007, I completed the Nuclear Medicine Technology program at UT Medical Center and have worked as a technologist since. I love being outdoors, traveling, taking care of my fur babies (Cinnamon and Ginger), and spending time with family and friends.  And yeah, I guess CrossFit is okay, you know…whatever 😉
CFFC: How long have you been with CrossFit First Creek?
Jana: It will be four years in February 2020.
CFFC: What made you start CrossFit? What has kept you doing it? Has your motivation changed since you first started?
Jana: I had heard of CrossFit, but after meeting Erin Pressley and seeing her arms, lol, I knew I wanted to try it.  She assured me I could do it and invited me to class. I was instantly hooked, even though my first WOD was seven minutes of burpees!!! The results and the people are most definitely what keep me doing it. I think my motivation has stayed pretty consistent.  Still so many movements I need to work on.
CFFC: What have you learned since joining CFFC?
Jana: I'm not an aggressive person!!! We all have strengths and weaknesses, and CrossFit will certainly bring those out, lol.
CFFC: What is your proudest CrossFit moment?
Jana: It's a tie between my first kipping pull-up and my first no ab mat HSPU!!! Both took me FOREVER!!!
CFFC: What would your perfect WOD look like?
Jana: Any team/partner WOD…Maybe some running/rowing, squats or cleans, rope climbs, and throw some double-unders in there, too!!
CFFC: What would your least favorite WOD look like?
Jana: Anything with gymnastics or burpees.
CFFC: What do you most enjoy about CFFC or CrossFit in general?
Jana: It's a great atmosphere!!  I've met so many wonderful people, and each day I look forward to suffering with them!! I also love the variety of workouts.
CFFC: What impact has CrossFit had on you in and out of the gym?
Jana: In the gym, CrossFit has made me want to work harder and do things I don't necessarily enjoy doing…jumping over/on things and being upside down, for example. Out of the gym, it has made me a more confident person 🙂
CFFC: What are your CrossFit goals?
Jana: I definitely want to get better at gymnastics. I am trying to work on one thing at time. Strict pull-ups are first on my list. It's taking me a while, but that's ok 🙂
CFFC: When you are not CrossFitting, what is your favorite thing to do?
Jana: Wait, when am I not CrossFitting???  LOL. I love going out with friends and snuggling with my "girls" on the couch!
CFFC: What is one fun thing about you that we may not know about you yet?
Jana: I was raised on a tobacco farm with my two older sisters.  We helped harvest the 40 acre crop, start to finish, each year.
CFFC: What is one tip you'd give to someone new to CrossFit or considering CrossFit?
Jana: Go at your own pace and don't compare yourself to others…OUCH!!!  I know we all do it, but it's not important.  Focus on form/technique and the rest will come!!  Also, ladies, don't put too much emphasis on your weight. Measurements are more accurate than weighing. 
CFFC: What is your diet like? Has it changed since starting CrossFit? What is your favorite workout fuel?
Jana: I am pretty strict on my diet during the week. I do a lot of meal prep on weekends, so that helps me to stay on track.  I don't really deny myself anything, just try to make good choices…I enjoy chocolate every single day!!  Since starting crossfit, I have tried several different methods of eating (lower carb, lower fat, etc), but what works best for me is higher protein, with moderate carbs/fat.  I almost always have greek yogurt with berries about an hour prior to class and BCAA's mixed with creatine and glutamine right before or during the workout.