"Come try CrossFit for one week, better yet, one day. But be prepared to leave with some new friends. There's something about it that just sucks you right in. CrossFit really is for anybody, no matter where you are on your fitness journey."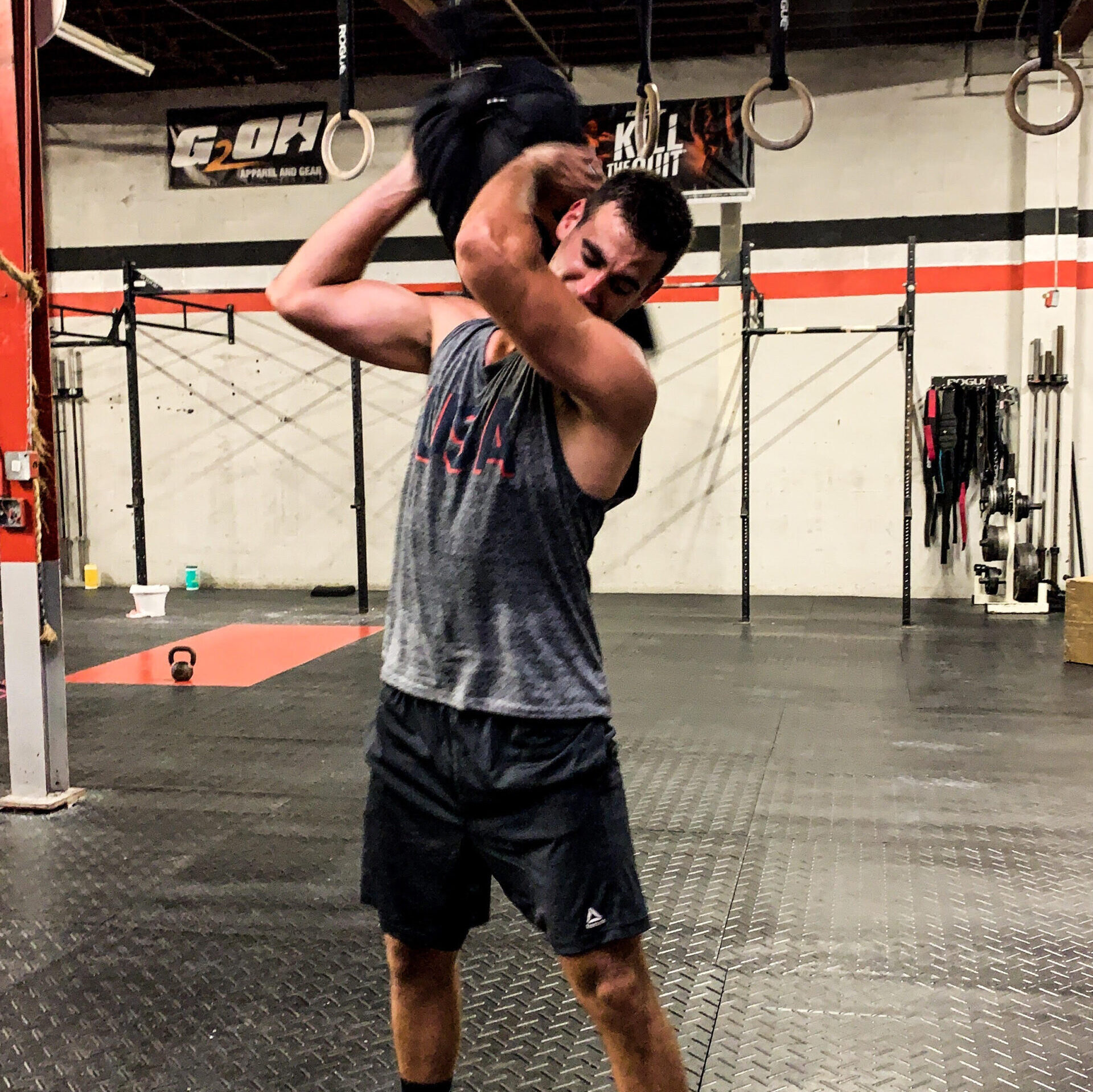 Congratulations to Kyle Grigsby, our January 2021 Athlete of the Month! We sat down with Kyle to learn more about his CrossFit journey.
TELL US ABOUT YOURSELF?
I grew up in Morristown but rooted in Knoxville working at Covenant Health. I attended the University of Tennessee for undergrad and finished my graduate degree from Oklahoma State University. My beautiful wife Kristen and I just had our first little baby girl in October and are loving parenthood.
HOW LONG HAVE YOU BEEN WITH CrossFit First Creek?
I showed up to CFFC about 2.5 years ago…time flies!
WHAT MADE YOU START CROSSFIT? WHAT HAS KEPT YOU DOING IT? HAS YOUR MOTIVATION CHANGED SINCE YOU FIRST STARTED?
At the time of joining CFFC, I was working out at a regular gym about 5 days a week but was getting bored with my workouts. Some days I left the gym feeling like I just went through the motions and didn't really push myself. I needed a change of pace to really push myself and that is exactly what's happened at CFFC. When I leave CFFC after a workout, I know that I have given it a full effort. The community and friendships have kept me involved and loving each time I step foot into the gym.
WHAT HAVE YOU LEARNED SINCE JOINING CFFC?
That your body is capable of far more than you ever imagined. With a little practice and consistency the body can achieve some pretty cool stuff.
WHAT IS YOUR PROUDEST CROSSFIT MOMENT?
The Open is always a good time, but this past year in the 20.5 workout I was able to string together a decent amount of ring muscle ups with my CFFC family cheering me on. That moment probably sticks out more than any other, just because ring muscle ups seemed so far away when I first started CrossFit.
WHAT IS YOUR FAVORITE LIFT, MOVEMENT, OR WOD? LEAST FAVORITE?
I love a good workout with some double-unders or muscle-ups involved…but my favorite WOD is probably Murph. I love grinding out a long, tough workout that also carries meaning.
Least favorite…is that even a question? Assault bike
WHAT DO YOU ENJOY MOST ABOUT CFFC OR JUST CROSSFIT IN GENERAL?
I love the competitive nature of CrossFit that allows me to compete against some of my best friends. As for CFFC, I've seen complete strangers become friends and then from friends to family. I really can't explain how awesome the community is at CFFC.
WHAT IMPACT HAS CROSSFIT HAD ON YOU IN AND OUT OF THE GYM?
One of the cool things about CrossFit is that it challenges you in strength, cardio and gymnastics. My mobility has gotten so much better since starting CrossFit and I just feel better from an overall standpoint. The workouts do a good job of challenging your mental game so while I've gotten stronger physically, I've also gotten stronger mentally.
WHAT ARE YOUR CROSSFIT GOALS? HOW CLOSE ARE YOU TO REACHING THEM?
There's still a couple movements that I don't have yet that I'd like to master. One being the handstand walk. I've got the handstand push-up down, but need some practice on the walk.
WHEN YOU ARE NOT CROSSFITTING, WHAT IS YOUR FAVORITE THING TO DO?
Whether it's the lake, the golf course, or snowboarding I just love being outside with friends and family.
WHAT IS ONE FUN THING ABOUT YOU THAT WE MAY NOT KNOW YET?
I actually love politics. My undergrad degree was in political science, so naturally the pipe dream is to end up in Congress.
WHAT IS THE ONE TIP YOU'D GIVE SOMEONE CONSIDERING CROSSFIT OR WHO IS NEW TO CROSSFIT?
Come try it for one week, better yet, one day…but be prepared to leave with some new friends. There's something about it that just sucks you right in. It really is for anybody, no matter where you are on your fitness journey.

WHAT IS YOUR DIET LIKE? HAS IT CHANGED SINCE STARTING CROSSFIT? WHAT IS YOUR FAVORITE WORKOUT FUEL?
While my nutrition is flawed, it has improved over the past couple of years. I'm pretty consistent about staying away from sugar and artificial ingredients. Our bodies weren't made for that stuff. I do find the harder I work in the gym the more it makes me want to make smarter choices when it comes to my nutrition. I love a good banana and pre-workout on my drive to the gym.
ANYTHING ELSE YOU WOULD LIKE TO ADD?
Thanks to all the CFFC coaches who help me push just a little bit more every day.