CrossFit First Creek – CrossFit
Warm-up
Warm-up (No Measure)
3 sets of the following:
30-sec for each movement in the wrist series. https://youtu.be/4_n22O5CAXg

10 Back Extensions(Supermans)

10 Arm rotations (5 forward/5 backward).

30-sec lat stretch against box/bench.

https://www.youtube.com/watch?v=d0JJD0FRZsU

10 Side lunges.
WARM-UP, MEDICINE-BALL CLEANS

Grab a lighter ball than what you intend to use for the workout.
8 MB DL.

8 MB DL + shrug.

8 MB FS.

8 MB Shrug + pull under.

8 MB Cleans.
WARM-UP, HANDSTAND WALK
10 Plank walks, sideways (5 right/5 left) with or without band.

8 Handstand kick-ups with a 2-sec pause.

Spend 4 minutes working on plank wall walks, box plank-ups, or handstand walking.
Metcon
Metcon (Time)
50-40-30-20-10

•Medicine-ball cleans (20/14)

•Handstand walk (feet)
Cool-Down
Warm-up (No Measure)
1 Min seated straddle hold.
10 Straddle sweeps. Start at the right and "sweep" the arms/body to the left (R to L=1 rep).
Spend the remaining time using a foam roller and/or lacrosse ball on the thoracic spine and shoulders.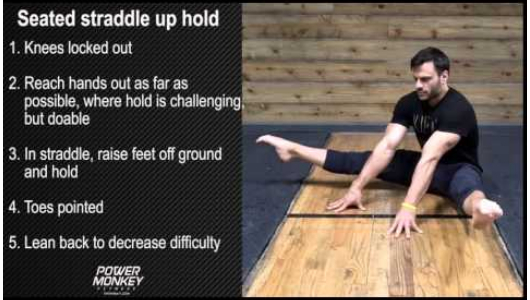 Seated Straddle Hold